SLH is the abbreviation of Small Luxury Hotels of the World, an alliance of the world's best independent small luxury hotels. This organization was established in 1991 and currently (2023) has 520 independently operated hotels in 90 countries worldwide.
SLH has strict regulations for hotels that apply for membership. There are four conditions for joining the SLH organization:
Hotel hardware must be of the highest grade;
Hotel operation and management must be of the highest standard;
Hotel service must be professional, personalized, and highly efficient;
Hotel beverages must be of the highest quality.
It is reported that only 5% of applications can be approved. There are currently 17 SLH member hotels in mainland China. Let's take a look at which China hotels have successfully joined the SLH.
LN Hotel Five in Guangzhou, China
Website: https://lingnanhotelfive.com/home.php
Rooms: 32
LN Hotel Five is a modern luxury hotel located in Guangzhou, China, near the Pearl River. It is stylish on the outside and beautifully decorated on the inside. You can relax in your private library or refresh in the gym on the top floor. Then move to the elegant lounge area and watch the city sunset.
The hotel guest rooms skillfully combine pastel colors and marble patterns, and traditional elements are refreshed against the backdrop of black decoration. At night, the city's dazzling lights reflect off the mirrors and the quietly flowing water in the Pearl River, making everything sparkling. Aimed at achieving a sense of balance and a soothing effect, LN Hotel Five is a popular resort in Guangzhou.
The Mist Hot Spring Hotel in Xuchang, China
Rooms: 51
Surrounded by the mist brought by the natural hot springs, The Mist Hot Spring Hotel floats in the air like a fairyland. However, the hot spring is only some of the uniqueness of this hotel. A striking stained-glass exterior and futuristic inside spaces connect guests in a unique way to the qualities of light, color, and shade.
There are 14 outdoor and 5 indoor hot spring pools at The Mist Hot Spring Hotel. It also has an indoor swimming pool, fitness center, and Mist Spa. You can visit the hotel restaurant to enjoy the beautiful scenery of lakes and mountains while tasting ingenious and creative Cantonese dishes. Or you can have a cocktail in the lobby bar and enjoy a comfortable evening. And, of course, stylish guest rooms with extra king-size beds and panoramic floor-to-ceiling windows are the perfect place to continue your relaxation.
Yiuteung Mansion in Chengdu, China
Website: http://en.ytmansion.com/
Rooms: 131
YiuTeung Mansion pays excellent attention to the beauty of balance. It takes inspiration from traditional Chinese architecture and the works of Mr. Ba Jin, a well-known writer in China. YiuTeung Mansion combines the Chinese style (1912-1949) and the European style, making the inner courtyard a center to create a peaceful and comfortable place to stay.

YiuTeung Mansion is located in the golden area of Chengdu city, and you can experience Sichuan's unique beauty, opera, and food when you go out.
The luxurious rooms and executive suites offered by YiuTeung Mansion are spacious and bright. The application of white, beige, and cream color allows sophisticated furniture and exquisite local artworks to shine. Before heading to the courtyard to enjoy the sunshine, you can relax and refresh by practicing yoga in the fitness center. You can also come to The Magnolia to taste authentic local Sichuan cuisine.
Honor Resort Yun Shu Dali in Yunnan, China
Rooms: 23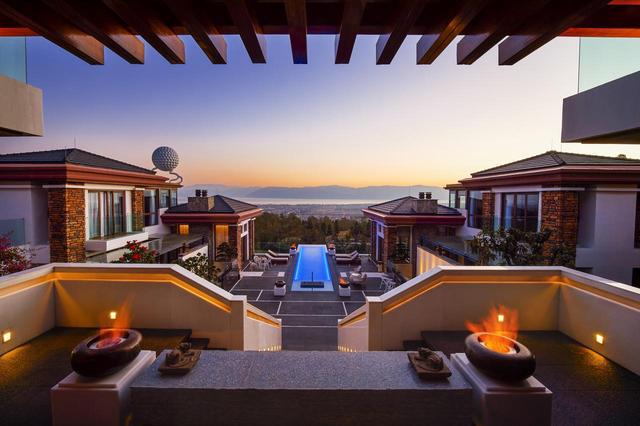 Honor Resort Yun Shu Dali is located at the foot of Yingle Peak in Cangshan Mountain, by the Yinxian River of Erhai Lake. It is an ideal place to go to Dali City to explore the beauty of the Bai nationality and other nationalities' cultures & nature.
Having both modern design and boutique hotel services, Honor Resort Yun Shu Dali combines tradition and avant-garde to create a hidden luxury experience in Dali. Whether the purpose of your trip is to play golf, explore the scenery of Yunnan in China, or relax, this luxury resort will make you happy.
Stepping through the wooden gate of Honor Resort Yun Shu Dali, you will go down the white marble stairs and have a panoramic view of Erhai Lake and Bai nationality villages.
The courtyard-style villa design ensures a private holiday experience for guests and integrates ancient Chinese classic architectural styles with modern, stylish, and elegant interior design. The courtyard center's transparent cantilevered outdoor swimming pool creates a beautiful mirror image under the blue sky and white clouds.
Stepping into the guest room, the floor-to-ceiling glass windows offer unobstructed views of the outdoor scenery. Beyond the porch, you can come to the private terrace and enjoy a slow time in Dali, China.
Hangzhou Rose Garden Resort & Spa in Hangzhou, China
Rooms:51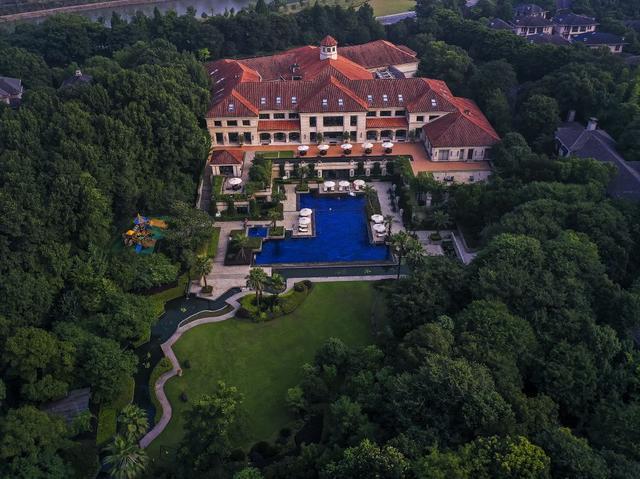 Hangzhou, the capital of the Southern Song Dynasty (1127-1279), is famous for its beautiful natural scenery, high-quality green tea, and historic temples near West Lake. Hangzhou Rose Garden Resort & Spa is nestled in a jagged garden adjacent to the Qiantang River and the famous Liuhe Pagoda, enjoying a warm atmosphere with 50 well-furnished guest rooms and one suite.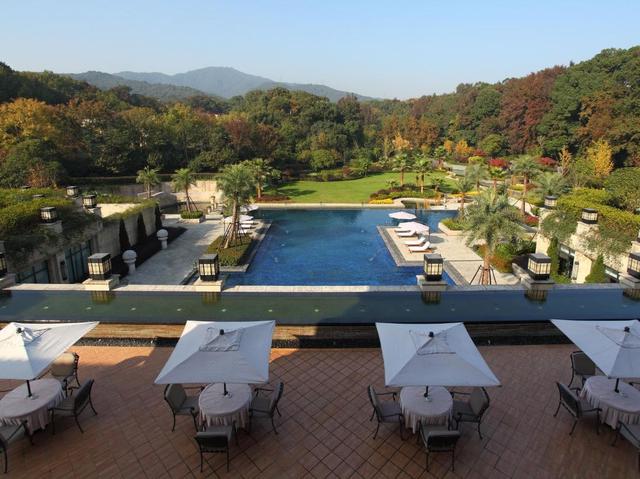 This resort has a restaurant and bar, indoor and outdoor swimming pools, tennis courts, and a gym that can view the whole garden. You can Enjoy tranquility at the foot of the majestic Wuyun Mountain.
Most guest rooms of Hangzhou Rose Garden Resort & Spa have a balcony where you can enjoy the beautiful views of the mountain or garden near the river.
The suite has an ample living space with two living rooms, one bedroom, and one bathroom. The resort's garden has three private gazebos in thick woods, ideal for contemplation and personal appointments.
Muh Shoou Xixi Hotel in Hangzhou, China
Rooms:43
Every element of the Muh Shoou Xixi Hotel is closely related to the surrounding scenery. Fluid lines, pools, open structures, weathered stone, wood trim, and washed marble reflect this. You can also see the ancient persimmon trees flexing and circling at the entrance of this hotel. This hotel is a boutique hotel in harmony with the environment.
Through the glass walls and open space of guest rooms and restaurant in Muh Shoou Xixi Hotel, you can enjoy the beautiful view of Xixi National Wetland Park. In summer, you can also swim in the large shaded outdoor pool.
Ye Qiu bar will become a warm haven in this hotel when it becomes cold. Xi Yin restaurant offers delicious Chinese food throughout the year, allowing guests to savor delicacy in a simple and stylish dining environment.
New Jingli Hotel in Nanjing, China
Website: http://www.newjingli.top/
Rooms: 138
Nanjing, the ancient capital of six dynasties, is famous for its long history, and now a new luxury resort New Jingli Hotel, has settled in this city. With a warm welcome, you will first enter a magnificent marble lobby decorated with Roman-style columns and high gloss dark wood furniture, the imprint of classic and modern European style can be seen throughout this hotel.
New Jingli Hotel's guest rooms and suites are designed to be soothing and easy to relax. Thoughtful design, advanced technology, and intuitive personal service will ensure an enjoyable stay here. You can also choose from delicious international cuisine, and your hometown specialties cooked on-site, or enjoy Huaiyang cuisine at the well-known and acclaimed Chinese food restaurant.
If you want to hold an event or banquet here, New Jingli Hotel's professional team will arrange a luxurious and grand event for you in the ballroom or meeting room. The roof terrace is ideal if you want to enjoy the private time under the stars.
You can also explore Nanjing city and its surroundings, including the Sun Yat-sen Mausoleum and the Purple Mountain Observatory.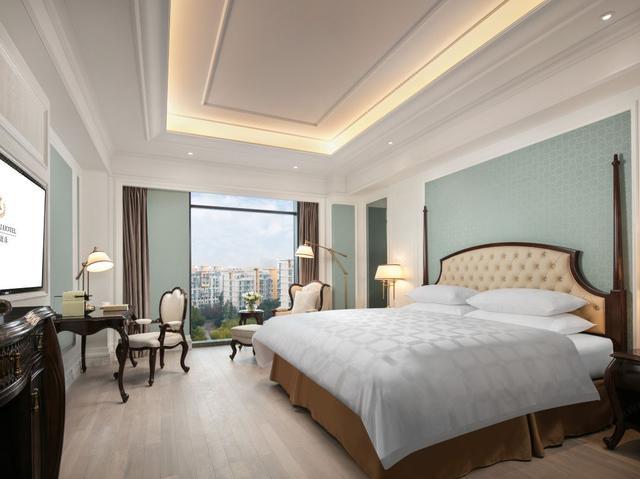 Cours et Pavillons in Beijing, China
Website: http://coursetpavillons.com/
Rooms: 7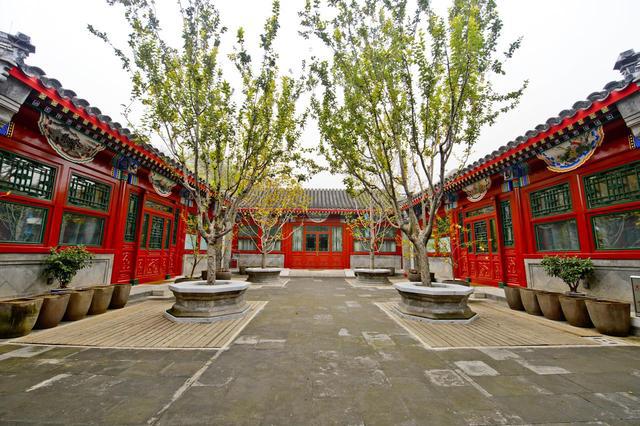 Inside Beijing city's meandering traditional hutongs are stunning luxury mansions. The Cours et Pavillons, an ancient hotel with customized design and high-quality service, can give every visitor a glimpse of ancient China. There are only seven guest rooms in the two traditional old houses, creating a feeling of exclusivity.
Step through the courtyard gate, then enter a world of tranquility and privacy. The ground is designed in a temple style, and the interior is decorated with antique art from the Ming and Qing Dynasties.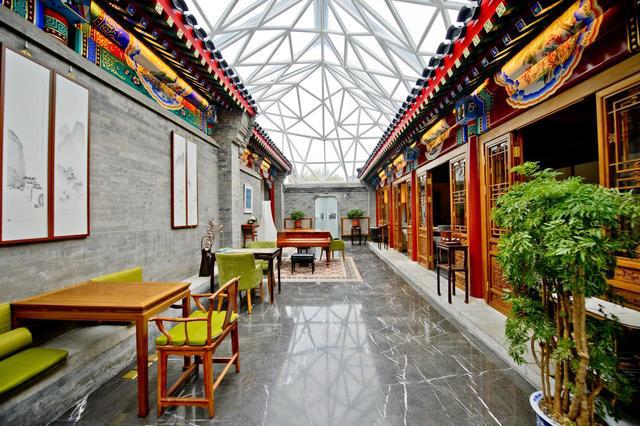 Some guest rooms feature carved wooden furniture and traditional wall paintings, and some have designer décor and Jacuzzis. The on-site French restaurant allows guests to enjoy modern cuisine in a quaint setting.
Cours et Pavillons is located in Weijia Hutong, Dongcheng District, Beijing (about 500 meters from the Zhangzizhong Road subway station). Hutongs nearby allow guests to experience Chinese community culture directly. You can also visit the Great Wall, the Bird's Nest, Tian An Men, and the Palace Museum in Beijing to learn more about China's history.
Hotel Éclat Beijing in China
Rooms: 100
As a member of SLH, Hotel Eclat Beijing is located on Dongdaqiao Road, Chaoyang District, Beijing, adjacent to the award-winning Parkview Green Fangcaodi. This luxurious and exquisite hotel provides guests with the perfect accommodation.
Hotel Éclat Beijing has a total of 100 rooms. The facilities specially designed for business travelers are considerate and thoughtful. The guest rooms are luxurious, spacious, and comfortable. 26 guest rooms and suites have whirlpool baths in bathrooms, and 20 luxury suites have private outdoor pools.
This hotel houses artworks by masters such as Salvador Dali, Andy Warhol, and Zeng Fanzhi, which make Hotel Éclat Beijing even more stylish and artistic. Unparalleled and excellent cuisine, meticulous and thoughtful room service and high-quality shopping and leisure landmarks make every guest feel warm and comfortable within a few steps.
The Sukhothai Shanghai in Shanghai, China
Website: https://www.sukhothai.com/shanghai/en
Rooms: 201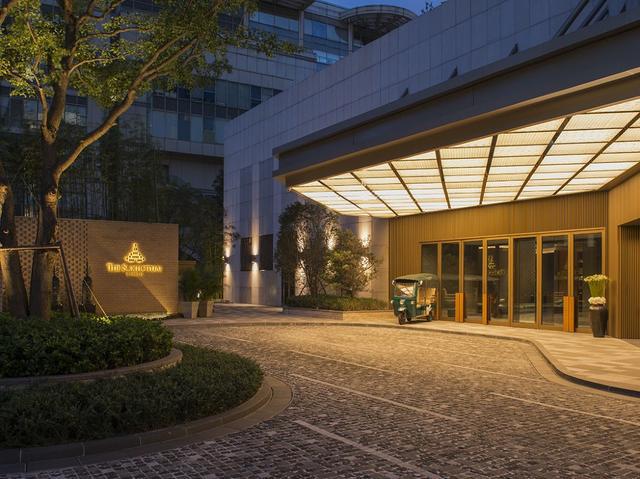 The Sukhothai Shanghai is just a 5-minute walk from Shanghai's famous shopping street, Nanjing West Road, offering Thai-style and private boutique hotel services. The impressive modern design of the hotel compliments the contemporary architecture, and the warm service makes you feel at home.
Whether you're here for work or pleasure, the suites and guestrooms at The Sukhothai Shanghai offer plenty of space to relax. Natural materials, floor-to-ceiling windows, and sweeping city views create a peaceful atmosphere. You can start your day with indoor swimming or a yoga class here.
After rejuvenating in the sauna room, you can explore Shanghai. If you want to take your relaxation to the next level, try a spa treatment in Sukhothai, Shanghai. You can indulge in the café and lounge area, serving snacks throughout the day. In the evening, La Scala restaurant, with its open kitchen, would make you feel like you are in Italy.
When you stay at The Sukhothai Shanghai, the designer boutiques on Nanjing West Road are next to you. You don't have to go far to discover the history of Shanghai. People's Square and the Shanghai Grand Theater are located nearby. Wujiang Road, the most popular among locals, is also not far away, where there are many lively food stalls selling a variety of local delicacies.
Elite Spring Villas in Quanzhou, China
Website: http://yuequan.net/
Rooms: 17
Surrounded by tea gardens, Elite Spring Villas is located in Anxi, Quanzhou, the hometown of Tieguanyin Tea in southern China. It is a resort-themed on ancient Chinese culture.
In Elite Spring Villas, the antique buildings are located by the quiet pond, the natural beauty is everywhere, and the sounds of nature linger in the ears, making guests fascinated.
Abandon your troubled thoughts, immerse yourself in the infinite Zen and peaceful atmosphere of Elite Spring Villas, and let your mind, body, and soul return to peace and contentment.
Walk along quaint paths with gurgling fountains, then enter quaint Elite Spring Villas. Each villa perfectly combines modern elements with Chinese-style design. The leisurely fragrance of sandalwood is refreshing, creating a quiet and peaceful mood with the indifferent decoration together.
Some villas have large living rooms and bedrooms with luxury hot tubs. You can dip in the outdoor swimming pool or soak in the hot springs with tea.
With freshly picked Anxi Tieguanyin Tea, brew a pot of fragrant tea and taste the charm of the tea ceremony. Elite Spring Villas' Restaurant also adheres to the method of sourcing local ingredients and uses local ingredients into the dishes to cook authentic Fujian and Cantonese dishes for guests.
Jangala Dunhuang in Dunhuang, China
Rooms: 25
People have been drawn to the natural wilderness for centuries, but on their adventure itineraries, they have always longed for an oasis habitat. Located along China's historic Silk Road, Jangala Dunhuang perfectly caters to the needs of adventurers. Its name comes from the Sanskrit word for "desert garden," Its whole style, from the outside desert backdrop to the beautiful hotel guest rooms, puts you in the heart of nature.
Jangala Dunhuang is more than just a luxury hotel. Inspired by the vibrant Dunhuang civilization, it celebrates Dunhuang's enduring artistic, humanistic and cultural heritage. The lounge area incorporates minimalist marble accents, comfortable sofas, and a boutique store and art exhibition space.
Waterscape Theater at the outdoor of Jangala Dunhuang will invite outstanding artists from time to time to present an unforgettable art feast for guests. And the hotel guest rooms and suites are luxurious displays of desert and sky.
Enjoy delicious food at Silk & Spice restaurant, sip a cocktail at the Mirage Bar rooftop, do a yoga salutation to the sun, or hit the "pause" button at the hotel's Meditation Space in Jangala Dunhuang.
Jangala is rich in history, culture, and stories in Dunhuang City. You can visit the Mogao Caves, a Buddhist shrine deep within the cliffs. You can also visit the ancient Silk Road and learn about the region's fascinating trade roots. The clichés aside, this is a true oasis: tree-lined, stunning murals, sparkling lakes, and a vineyard—all ideal places for a picnic.
Qiushui Villa in Hangzhou, China
Rooms: 11
Everything at Qiushui Villa is designed for your brief respite from the hustle and bustle of modern life. This beautifully restored century-old garden villa blends a rich sense of history with contemporary comforts. With exclusive French cuisine, attentive butler service, and a stunning semi-open large pool, you'll enjoy a truly luxurious holiday experience here.
Inspired by the Yihong Park (Jia Baoyu's residence) in A Dream of Red Mansions, the atrium garden of Qiushui Villa is flanked by stone statues and vibrant flowers, with steps leading from a sparkling pool to the front door.
The hotel guest rooms have unique design themes and cultural connotations, wrapped in many antique objects to take you to experience the poetic lifestyle of ancient Chinese literature. The spacious terrace of Qiushui Villa is perfect for reading on holiday, while the most advanced gym in this villa is perfect for fitness. You can also enjoy delicious French food in the villa's French restaurant.
Qiushui Villa is next to West Lake, undoubtedly the most famous scenic spot in Hangzhou City.
Early in the morning, you can watch the mist rise over the tranquil waters of West Lake or explore the many winding causeways and bridges along the lake by bike.
You can also head to the China Silk Museum to learn about the connection between Hangzhou City and the Silk Road, then go to Lingyin Temple to make a wish.
Vallie Hotel in Hangzhou, China
Rooms: 8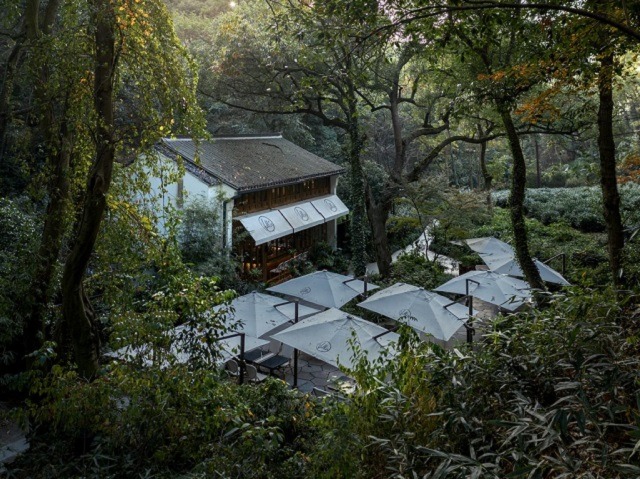 Vallie Hotel is a romantic Eden in Hangzhou City, nestled in the tea fields and natural forests far away from the city but in the tranquil atmosphere of Liuhe Pagoda Cultural Park. The hotel buildings were once local tea farmers' homes. They blend beautifully with the wood trees landscape, with temple-like roofs and golden light streaming through the trees as night falls. But don't be confused: despite its unique heritage, it's a luxurious hideaway.
Vallie Hotel is luxurious but low profile. Simple hotel furniture, white linens and unpainted wooden beams make each spacious guest room a relaxing space.
Some guest rooms and suites have private soaking pools filled with natural spring water from Tiger-running Spring, while others have private patios and living rooms for guests to have fun.
Vallie Hotel provides 24-hour attentive butler service, and you can take a spring bath or drink a cup of Longjing tea whenever you want. Shijiu Gastro Lounge in this hotel also offers you the best food – and your favourite wine.
If you're willing to step out of the hotel's comfy bed and yoga pod, you'll find a peaceful natural forest, and then you can hike along winding trails on Yuelun Mountain.
The Liuhe Pagoda, a few steps away from Vallie Hotel, you can visit it for a breathtaking view of the Qiantang River.
Lakeview Hotel Yulongwan Kunming in Kunming, China
Website: http://lakeviewgolfhotel.com/
Rooms: 133
Yulongwan Lake View Hotel is located in a valley of Kunming, which is known as "the Spring City" because of its pleasant climate and blooming flowers. You can overlook Yulongwan Lake in this hotel.
This boutique hotel is a haven of natural beauty and is surrounded by 870,000 square meters of lush green forests, rolling hills, and 200,000 square meters of clear lake.
With large floor-to-ceiling windows and open terraces, this hotel's design perfectly harmonizes with its surroundings. As you can guess from the hotel's name, lake views from every room are the unique selling proposition.
The interior design of Lakeview Hotel Yulongwan Kunming is Japanese-style minimalism, and it effortlessly combines simplicity with luxury: cool neutral colors, wood panels, and the latest amenities. You will also have 24-hour butler service.
As a typical resort hotel, of course, Lakeview Hotel Yulongwan Kunming offers a variety of experiences: tennis, horseback riding, outdoor hiking, water sports, and the famous Yulongwan golf course.
Or, if you want to travel further afield, some local Kunming attractions are not far from this hotel. After a day of sightseeing, please sit back and relax at the lobby bar of this hotel. It has a refreshing design for a cocktail before dinner or an after-morning coffee.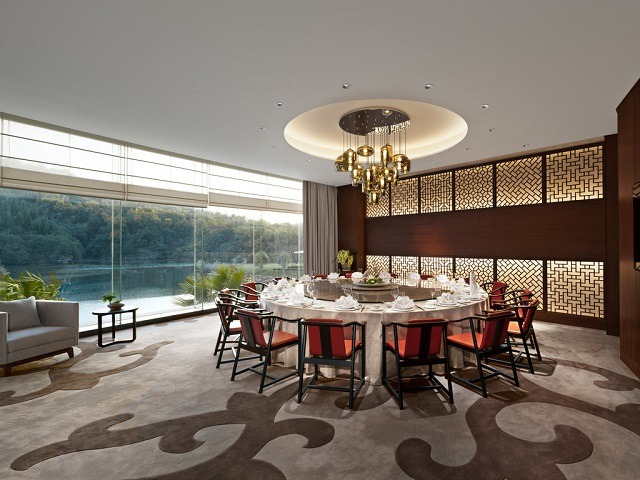 Yangshuo Jora Hotel in Guilin, China
Rooms: 34
Beautiful scenery, butler service, and collected books provide a quiet and beautiful experience for every guest who comes to Yangshuo Jora Hotel.
You can rise with the sun and have swimming in the outdoor pool, then participate in the tea ceremony in the Kong Tea Room or taste the best from the hotel's wine cellar.
The elegant guest rooms and suites of Yangshuo Jora Hotel, with beautiful karst landforms or Li River scenery, will let you escape from the hustle and bustle of the city and settle down in tranquility.
All guestrooms and suites in Yangshuo Jora Hotel are comfortable with clean lines and natural tones, and the fresh and minimalist decor complements the shimmering natural landscape outside. Shishan Restaurant in this hotel provides guests with various Chinese and other dishes, including breakfast, lunch, afternoon snacks, and dinner.

All raw food ingredients in Yangshuo Jora Hotel are local and organic, and the creative Chinese dishes in Western style are also this hotel's characteristics.
Jora Bar prepares authentic espresso and ice cream for you every day, and you can also refresh yourself with a martini cocktail here.
There are plenty of quiet places inside and outside this hotel to relax, especially the library, with more than 500 books.
Natural beauty is the protagonist of Yangshuo Jora Hotel. Therefore, the misty karst landscape will attract you out of the guest room and into Yangshuo County of Guilin City, a vast classical Chinese painting.
You can wear light shoes, bring your camera, and go to Ten mile Gallery, Yulong River or Xianggong Mountain. Cycle through rice fields, then raft along the river on a bamboo raft, sailing to the turquoise karst peaks. Some guests would choose to shop for souvenirs on Yangshuo West Street with local characteristics.
The Dawn of Yihe Hotel
Rooms: 16
The Dawn of Yihe Hotel officially opened in 2021, it has only 16 rooms, but Yihe spent seven years to build this SLH hotel, gathering the subtlety of ancient architecture, the elegance of the landscape and the essence of Nanzhao style, so that every visitor can start a stunning and wonderful journey of discovery.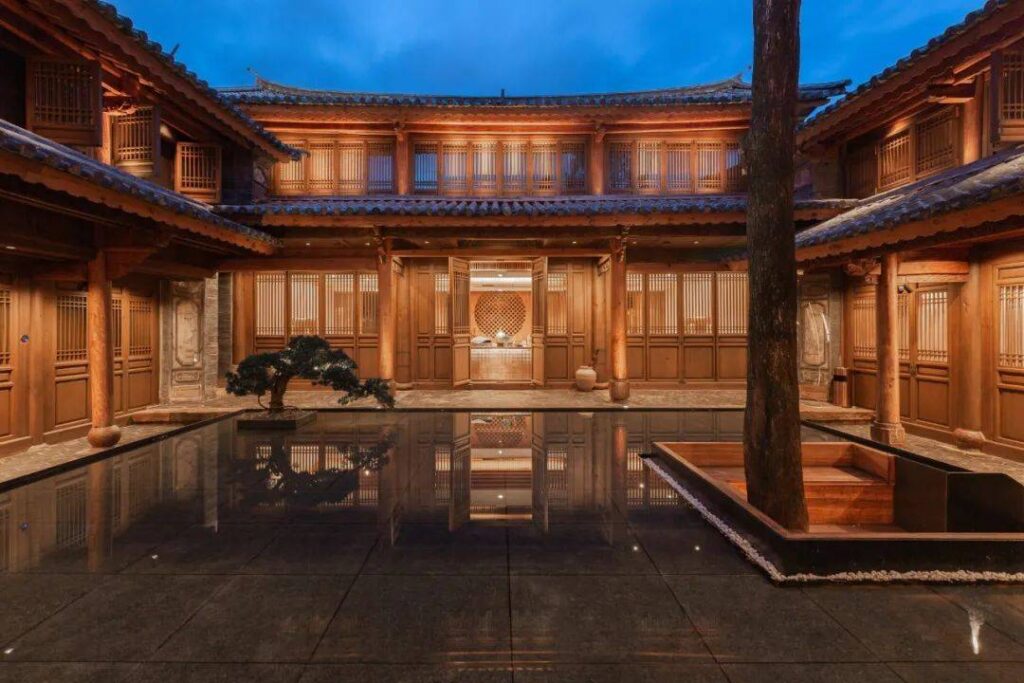 Hidden in the streets of Weishan ancient city, The Dawn of Yihe Hotel is more like an old mansion than a traditional hotel.
This hotel has four beautiful courtyards, named after spring, summer, autumn and winter.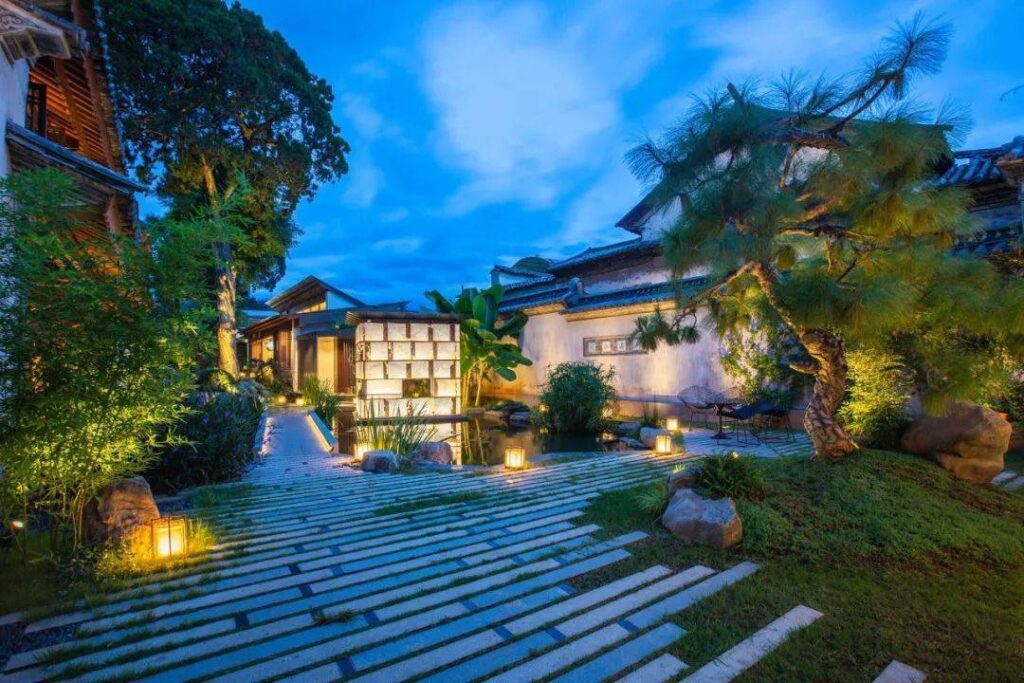 Summary
That's the 16 SLH Hotels China in 2022, and we will keep updating you if there are any changes in the future. Welcome to leave a comment or contact us. We would appreciate it if you could share the post.